What I am working on currently.
Over the last several years while teaching, there has a point in my presentations where I talk about the 1946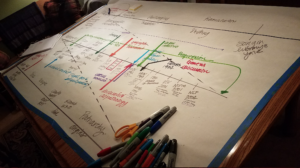 Revised Standard Version of the New Testament. It was there, for the first time that the word "homosexual" appeared in any language or any biblical translation. Two Greek words, arsenokoitai and malakos, were combines as "homosexual." I believed the word choice was ideological and cultural, rather than theological.
My friend Ed Oxford heard me say this several times and asked, "Kathy, would you like to prove that theory?"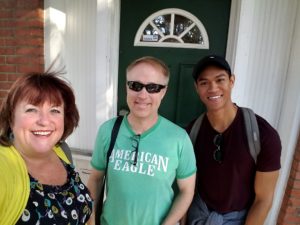 So, in September 2017, Ed and I spent five days in the archives of Yale University. Dr. Luther Weigle, former dean of Yale Divinity School, had been the head of the RSV translation team and left all his papers to Yale University.
Amongst those nineteen boxes of papers and 22 roles of microfilm, each with about two thousand sheets of paper, I found the what I was looking for!
Rather than co-author and academic paper with a biblical scholar, along with Ed, I decided to write another book using the discoveries from the archives as a starting point. The book has no title yet, but I do have the sketch of an outline. If you have seen my presentation, you will know I am a fan of writing on big sheets of paper!
I will include the beginnings of patriarchy (another topic I've been thinking about deeply for a year), the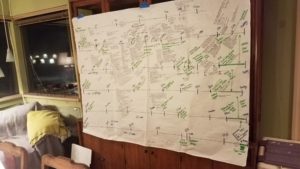 context of the translations of ancient and modern Bibles in relation to the Scriptures referring to same-sex behavior. Where applicable, the information will be set against a backdrop of what was known about human sexuality, procreation and the roles of men and women. I will also include a history or the understanding of human sexuality from the 1860s to 1970 in great detail. Also in the mix of influences, I will look at both the LGBTQ civil rights movement and the merger of conservative religion and politics. I covered some of this in detail in my first book, Walking the Bridgeless Canyon, and will only cover what is necessary in this book to offer greate the Bible translations greater
MISSION STATEMENT:
The mission of Canyonwalker Connections is to repair the division that exists between social and Christian conservatives and the lesbian, gay, bisexual, and transgender (LGBT) community through education, training, and dialogue in both secular and religious environments.
Please support the work of Canyonwalker Connections with either a one time gift, recurring gifts or monthly donations.
Donations can be sent via several platforms including Network for Good ( the platform used by Facebook, here is the fundraiser going on currently and Paypal (on this page, the sidebar of any of this blog's pages and directly on Paypal to: orders@canyonwalkerconnections.com)
You can either click on the DONATION link on the sidebar of every blog page, or go directly HERE.
Thank you for considering supporting this essential work which fosters fairness, justice, and inclusion for LGBT Christians.
___________________________
WHAT PEOPLE SAY ABOUT CANYONWALKER CONNECTIONS:
"Kathy Baldock is one of the most tireless, dedicated, and influential advocates for LGBT Christians in the evangelical church. Her work has helped to transform the lives of thousands of people, and her ministry is a model of the kind of effective, conciliatory, bridge-building work the church desperately needs." —Matthew Vines, President, The Reformation Project
______
"Your seminar was the first time in my life (45 years) that I saw the true interpretation of the historical timeline and the Bible side by side. I realized that I was not an abomination to God as my mother states. Thank you for enlightening my path as I walk with God in my new understanding of His Word." — Brian, Sacramento
______
"Kathy's seminar has changed my whole understanding of the history of the American Church, American politics, and the LGBT community.  Her precise way of cutting through the lies, mistruths, and ignorance of the general population regarding this information is transformative.  I walked away with a better understanding of what society has said about LGBT persons versus what God has said about LGBT persons.  This understanding gave me freedom of faith, an acceptance of my own sexuality, and cultivated healing and wholeness in my life."  – Alisa, San Francisco
______
"Finding Kathy's website was a blessing for us. We are Christian parents who raised our children in church and Christian school. Having a gay child brought years of shame and guilt. We were confused, struggling and searching for answers. When I stumbled onto her website, it was a breath of fresh air!
"Kathy has been given a gift to share, a mission to reveal the truth, a ministry of reconciliation that cannot be stopped and won't be silenced. Kathy, you are strong, you are kind, you are a blessing to so many. Thank you from the bottom of our weary hearts!" — Sandra, SoCal
_______
"When I first heard you speak at a local conference last year I was touched by the passion and drive that the Lord had put on your heart for this topic. You are filling a hole in the story that has not been told and I'm excited to see where it leads. Thank you for standing up when called." —Clifton, KC, MO
______
"Kathy Baldock has achieved something remarkable. By tying together such disparate threads as historical understandings of sexuality, scientific discovery, 20th century political movements, and scriptural translation, she's created a timeline we can look to to better understand where we have come from and where we are now.
"At a time of passionate discord over the efficacy of gay relationships and the mainstreaming of marginalized LGBT people both within the church and society, Baldock offers a necessary tonic to our understandings. Regardless of anyone's position on these matters, there is something new to be heard here.
"Baldock herself is eloquent, charming and often quite funny. She seems to take herself seriously only in her passion for God, for truth, and setting people free – people who have been held captive for far too long by fear, by misunderstanding, and by just plain bad practice of the Gospel of Jesus Christ." — Shane, Sacramento, CA
______
"I support Kathy's work because I admire what she does and stands for. Her work, writing and speaking has been an encouragement to me in my personal journey as the proud mom of a gay son. She's an inspiration—and I hope to, like Kathy, impact my community with the message of Christ's love for ALL." 
— Dena, San Diego, CA
______
"There are those who speak eloquently about spiritual abuses levied against the LGBTQ communities, and others who by their life model a different and holy path. Kathy Baldock is a national leader helping to facilitate honoring discussions with the goal of seeing latent prejudice, anger and ignorance dissipate with each handshake and hug. 
Far from strident, her teaching and presentation lays out a solid foundation for understanding and bridge building that can liberate many hard hearts and invite people to unclench fists. It is a must read." — Butch Maltby, domestic and global fundraising consultant, Senior Advisor Newton Media