Franklin Graham is bringing his "Decision America Tour" to Carson City, Nevada on Wednesday, March 30th. And, I will be there . . .  with a protest sign.
I'll be standing as a silent (mostly) witness against grievous words repeatedly spoken by Graham against the gay and transgender communities, in particular, gay children and transgender children.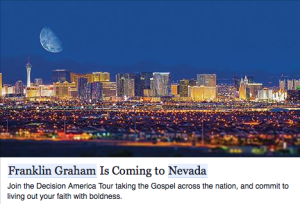 I agree with the overall intent of the prayer rally and certainly applaud Graham's leadership of Samaritan's Purse, a Christian humanitarian missions organization that provides aid to people in crisis throughout the world. In fact, for many years, I participated in Operation Christmas Child by gathering shoeboxes of gifts for children. I cannot, however, silently ignore Franklin Graham's repeated grievous and ill-informed public commentaries about gay and transgender people, children in particular.
Graham's opinions on such issues, though poorly informed, sadly do carry weight in the Evangelical world. He enjoys significant reputation within that community, in large part, built upon his father, Billy Graham's, excellent legacy. Franklin Graham unfortunately, took a wide turn from the example of his father's loving and grace filled life, and has become entrenched in cultural issues in which he is significantly ill-educated.
We must protect gay and transgender youth in our churches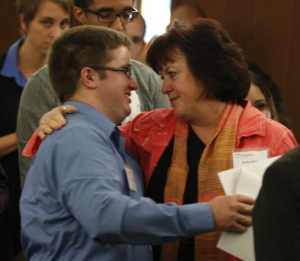 Graham's fear fueled rhetoric on faith as it intersects sexual orientation and gender identity is not only scientifically and medically inaccurate, it is also spiritually and psychologically damaging, and aggressively delivered.
Though I will surely be in a minority in my state's capital when Graham hosts his rally, I will not passively defer to his continuous harmful messaging about gay and transgender youth in our churches.
You may be unaware of Graham's recent statements about gay and transgender youth. I find his words particularly poisonous.
He says:
We have allowed the enemy to come into our churches. I was talking to some Christians and they were talking about how they invited these gay children to come into their home and to come into the church and that they were wanting to influence them.

And I thought to myself, they're not going to influence those kids, those kids are going to influence those parents' children. What happens is we think we can fight by smiling and being real nice and loving. We have to understand who the enemy is and what he wants — he wants to devour our homes. He wants to devour this nation.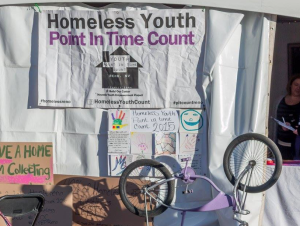 This was spoken about children . . .  children.
Are you aware of the severe consequences of rejecting gay youth as opposed to accepting them?
Below are the documented and well-researched results of rejecting gay and transgender youth:
Gay youth are EIGHT times more apt to attempt suicide than those gay youth who are accepted.
They may suffer depression SIX times more often than those who are accepted.
They are THREE times more likely to get involved in drug and alcohol abuse than those gay youth that are accepted.
They are THREE times more likely to contract HIV and/or STDs than accepted gay youth
[That's research; scientific, peer reviewed research.]
EVERY professional medical and mental health organization in the U.S. acknowledges there is a natural spectrum of human sexuality from heterosexuality to homosexuality. These organizations are also in agreement as to the damaging effects of attempts to change natural sexual orientation.]

People outside the gay or transgender and their allies communities are largely unaware of Graham's egregious comments. Christian parents with gay or transgender children did hear Graham's words, and they reacted!
Please read the reaction of Christian parents of gay and transgender children to Graham's egregious words, along with other input.
Because of Graham's status in Christian circles, his words are mistakingly taken as if they are in alignment with the character and nature of God. They are not. Not only does Franklin Graham not reflect the heart of God on this issue, he does not even reflect the legacy of his own father, Billy. Such aggressive, alienating condemnations would not have been spoken by his father.
Demand our leaders speak TRUTH
While at the rally, do pray for our nation, its leaders, as well as for the homeless and lonely in our state. Be aware that in any city, up to 40% of the homeless youth on our streets are gay or transgender; most are on the streets because of family rejection.
For the sake of the Kingdom and the witness of Christ in needy world, keep packing your Christmas shoeboxes for children and contributing for the care of the poor, sick, and needy globally. But don't ignore the gay and transgender kids in our churches and homes, and those on the streets. Strive to keep them safe.
One way to keep these kids safe is to hold religious leaders accountable for the dangerous and ill-informed words they speak about gay and transgender children. Franklin Graham is guilty of this and he must stop speaking destruction into the lives of the gay and transgender kids in our churches.
I'll see you in Carson City on Wednesday, March 30th.
________________________________________
If you would like to learn more about the intersection of faith and sexual orientation and gender identity, please join me on Saturday, April 23rd at Trinity Episcopal Church, 200 Island Avenue, Reno for a six-hour presentation including a free lunch. The details are here.
Comments
comments