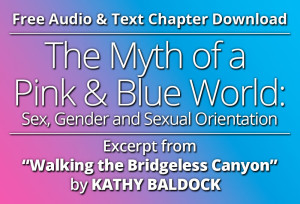 [FREE AUDIO: downloadable audio.
The conversation at the intersection of faith and sexual orientation and gender identity within the conservative Christian circle is often quite contentious.
We would not think of ignoring scientific and medical advancements in our use of technology, assessment of cancer, or even growing crops. Yet, the same devotees of modern progress, ignore what is known about human sexuality and gender identity while holding tightly to Bible verses written in and to a culture over two millennia old.  They apply ancient concepts and translated words directly to gay, lesbian, bisexual, and transgender people today.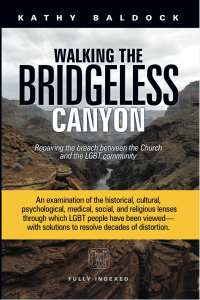 Some people view science as scary, or as a threat to the truths in the Word of God, so they avoid scientific research and knowledge, or simply dismiss it. But science and faith aren't mutually exclusive. Both are necessary for thoughtful consideration of important theological questions pertaining to life sciences and human behavior, as well as to sex, gender, gender identity, and sexual orientation.
Wading through some basic biology will give us a broader understanding and appreciation of the vastness of God and His design. This information is what you will find in the chapter "The Myth of a Pink and Blue World: Sex, Gender and Sexual Orientation."
Please share the chapter as downloadable audio.
***********************************
Walking the Bridgeless Canyon examines the lenses through which we, in particular, Christians, have come to view the LGBT community. One by one, each chapter of the book explores the historical, cultural, psychological, medical, social, and religious views of the LGBT community.
Walking the Bridgeless Canyon — Repairing the Breach Between the Church and the LGBT Community is available as a signed copy HERE , and on Amazon as a book, Kindle, and audio.
*****************************************