Torn: Rescuing the Gospel from the Gays-vs.-Christians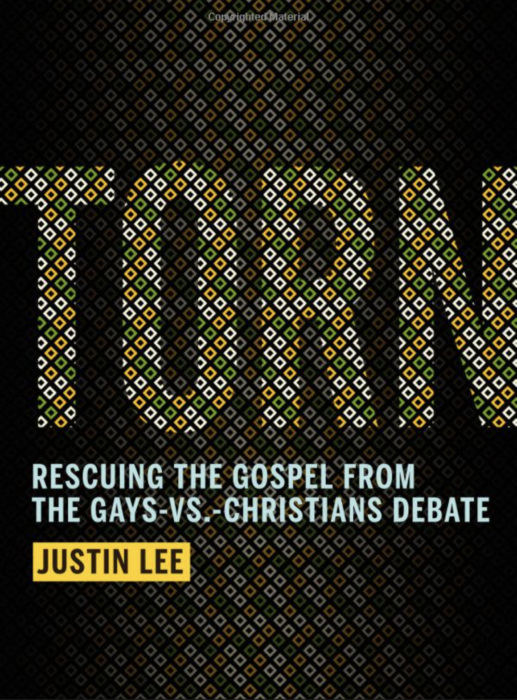 I am going to recommend, again and again, that you read Torn: Rescuing the Gospel from the Gays-vs.-Christians Debate.(Just updated–early release is October 30th ) I am also going to suggest you buy an extra copy for your parents and family that don't quite "get it" and add another one for the youth pastor of the church you attended while you were too afraid to come out. Oh, and drop one off to the leader…
I am going to recommend, again and again, that you read Torn: Rescuing the Gospel from the Gays-vs.-Christians Debate.(Just updated–early release is October 30th ) I am also going to suggest you buy an extra copy for your parents and family that don't quite "get it" and add another one for the youth pastor of the church you attended while you were too afraid to come out. Oh, and drop one off to the leader of the campus Christian ministry you attended while in college, too. Yes, this book is that good, that meaningful, that well done and that important. Now, to the review . . .
In Torn, Justin recounts his own story from "God Boy" — you know the type: the kid with the verses at-the-ready, the Bible Answer Kid– to Gay Boy. Not only did Justin not think you could possibly be both gay and Christian, he didn't think he even knew any gay people.
Justin tells us about his own journey as he considers that he might indeed be gay. As a teenager, he attends a "super-secret meeting of anonymous homosexuals" that was suggested to him. Justin hears discouraging stories from homosexual men struggling "to feel some level of sexual attraction to their wives, or any woman."
"God Boy" had never even kept a secret from his parents; coming out to his parents, as it is for most gay youth, was terrifying. "I knew they would love me no matter what happened. I was just afraid of disappointing them. I had always been their pride and joy, and now I was about to shatter their image of me." In this chapter, Justin offers some excellent tips for parents of gay youth to achieve honesty and mutual respect.
There is an informative chapter covering the various theories of "why some people are gay." For readers that hold to the long-disproven ship-them-off-to-reparative-therapy as the gay fix-it, the realities of this tactic are seen for what they are: unproductive and destructive. Justin says: "In spite of their public claims, ex-gay ministries are often much more effective at taking away faith than at taking away attractions. Churches need to know this before they send people in that direction."
I am particularly grateful for the inclusion in Justin's book about his time in a campus Christian ministry he politely renames "Campus Christian Fellowship," or CCF. At a crossroad, when many gay youth are experiencing some level of thinking and social freedom after moving from home to college, there are Christian organizations on campuses that dismiss the topic of being both gay and Christian.
I hope that those organizations see themselves in Justin's book and realize the destruction they may have effected if Justin were not so determined to reconcile his faith and orientation. This is being repeated now on college campuses across the country. Young gay Christians are walking away from the faith, rather than being strengthened in it.
There is an investigation of the verses used to condemn same-sex attracted people with the backdrop of Justin's own journey. He makes the explanations accessible in his humble, storytelling manner.
Currently, Justin Lee is the founder and President of the Gay Christian Network (GCN), an online community of over 20K gay, lesbian,bisexual and transgender Christians and their allies, parents and friends. GCN began simply as a way to tell stories and connect with other gay Christians.
Telling stories is an effective tool for mutual understanding. Attitudes are difficult to change. In my own experience as an advocate for the LGBT Christian community within the church, I find that stacking information and arguments over verses will rarely move the conversation towards mutual respect. The key to opening our hearts and minds to the journey of another is through emotional, persuasive storytelling. And Justin does that very well in his own honest manner in Torn.
Here is where I must disclose that I not only loved the book; I love Justin too. I met him over the phone for the first time in December of 2006. The New York Times had just run an article about Justin and the Gay Christian Network. I was stunned to see those two words "gay" and "Christian" side by side.
I tracked him down and asked him, "I see you are having a conference in Seattle. Can I come? I promise I am not coming to change anyone; I just cannot believe you exist and that there are enough of you to have a conference."
I did go and have been going for six years now. (This year, the conference is in Arizona in January. Justin Lee is one of the most gifted, funny, humble, able, compassionate, intelligent and gracious people involved in this very difficult dialogue about gay Christians and their place in the church. His passion comes off every page; his heart and love for Jesus is in every chapter.His voice cannot be discounted by even the most anti-gay-and-Christian opposition — it is filled with the attitudes of Jesus.
Stories like Justin's are being repeated in many congregations now. Gay youth that have been raised in the church not only love Jesus; they also know the Scriptures. Unlike the mere decade ago when Justin was coming out and there were no accessible role models, now there are. Christian youth that are thinking about coming out or have come out need to know that they can indeed be both gay and Christian. Their parents and pastors should begin having productive dialogues about this issue in hopes that people will not be forced to choose between the orientation they cannot change and the faith they can opt to leave.
The Gospel does indeed need to be rescued from the "Do gay Christians exist?" debate. Torn will help that conversation progress. This is an important book that will advance understanding. If there is a gay Christian in your life — read it. If you are that gay Christian — read it and share it.
By sharing our stories and exploring one another's humanity, we will discover compassion and grace. Justin is leading in that way.
Preorder here: