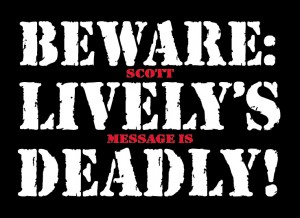 I ache inside – I really ache.  Many people want nothing to do with Christianity because the public face of Jesus is often ugly and mean. An unholy war of sacred discrimination has been unleashed on the gay, lesbian, bisexual and transgender (GLBT) community by some extremist Christians. They are vocal and they are dangerous to not only GLBT people, but to the church itself.  From April 27-29, 2012, perhaps one of the ugliest faces in American Christianity, Scott Lively, (Defend the Family and Abiding Truth Ministry) will be hosted by the Draper Park Christian Church  in Oklahoma City for three days of teaching and preaching.
Lively first came into the public eye twenty years ago in Oregon as a leader in the Oregon Citizens Alliance, which pursued Measure 9, an attempted to ban "special rights" for homosexuals and further add provisions that homosexuality be condemned as "abnormal, wrong, unnatural and perverse."  Along with Paul Cameron, they began to create an image of gay people wholly manufactured and sufficiently frightening.  He still disseminates this same destructive propaganda.
Lively, a "Holocaust revisionist", authored "The Pink Swastika: Homosexuality in the Nazi Party"  in 2002. In it, he contends that homosexuality in the Nazi Party contributed to the extreme violence and militarism of Nazi Germany. He says Hitler and many of the men in his inner circle were gay; together, they masterminded the Holocaust. Historians agree this is completely false.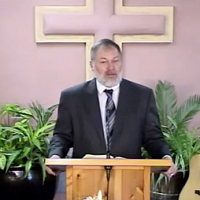 In February 2009, Lively took his teachings to Family Life Network (FLN) in Uganda.  For three days he exploited Ugandan fears with his outlandish lies: gays are child molesters, they recruit children, they were Hitler's henchmen in the Holocaust because "gay men are exceptionally brutal and savage," their intention is to overtake society and destroy the family, and the only hope (besides imprisonment) is to get them into conversion facilities to make them straight.  Within one month of the conference, FLN was quoting Lively's work and calling for mass arrests of gay and transgender people.  The very next month Ugandan Parliament leader, David Bahati, introduced a bill to strengthen Uganda's law against homosexuality to include arrest and death. The video trial of these events is well documented.
In 2011, Lively declared a shift in mission and presented himself as the 2.0 version, the kinder, gentler city reformer of Springfield, MA with Redemption Gate. Did he actually leave all that international destruction behind to sell coffee and preach love?  No.  He is currently active in Eastern Europe, Moldova and Russia bringing them the same strain of anti-gay teaching he once exported to Uganda.  As the European Union debates inclusion of sexual orientation and gender identity in its discrimination laws, Lively is right there in the mix, once again lending his "expertise" with a blend of personal extreme biases and the Bible.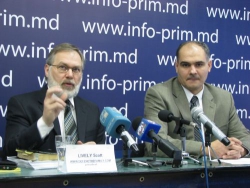 So, at the end of April, the people of Draper Park Christian Church will hear the poisonous lies about the gay community from the"ugly Jesus" face.  What is shocking is that this event is not hidden away on a radio show in Moldova or inside a small church in Russia or Uganda; this is in Oklahoma City.  By the end of Sunday night, April 29th, Scott Lively will have indoctrinated more people with fear and lies, cleverly duct taped together with some verses from the Bible.  His unholy war of sacred discrimination will inflict new damage to the gay community and the church in Oklahoma.
In response to Lively's visit to DPCC, Scott Hamilton, Executive Director of the Cimarron Alliance Foundation, Oklahoma City has arranged several events:
Thursday, several groups will join together with a unified voice for a Press Conference demanding that truth, rather than "Holocaust revisionism" be told  and that the GLBT community be treated with fairness. Included in that gathering will be: Christians leaders from both affirming and non-affirming congregations, Muslims, Buddhists, Jews, The Center for Oklahoma Human Rights Alliance and the ACLU.
Friday, Oklahoma: Inside Out, a weekly radio show, will host a public panel discussion featuring Wayne Besen, Truth Wins Out, and Scott Hamilton, for an 1 1/2 hour live show. The public is invited to attend and you may email your comments or questions to: scott@cimmarronalliance.org
Saturday morning, several Oklahoma City churches will open their doors for a special time of reflective prayer. People are being asked to focus upon personal truth and fairness.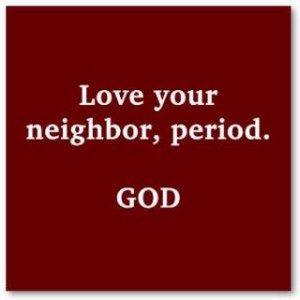 As unaware and passive Christians sit in the isolating confines of their church homes and potlucks, the "ugly Jesus" is aggressively attacking.  "Scott Lively in Oklahoma City has nothing to do with me," you think.  "I would never behave hatefully or believe those lies."  Most of us have gay friends, family, neighbors and co-workers.  We see people, not behaviors; we see men and women, just like the rest of us, who want the same rights as the people around them.  They desire to be in legally and socially recognized relationships, and they want protection for their families.  These are good and noble things.
God told His people through the prophet Isaiah 2,700 years ago to quit all the external piety and get to the work He was asking them to do: "loose the chains of injustice and untie the cords of the yoke to set the oppressed free," (Isaiah 58).
Amazingly to me, it is mostly Christians that actively fight against equality for GLBT people.  In direct defiance of what God tells us to do, many will not only stand in the way of justice; they will manipulate man-made lies to create fear, disgust and discrimination.
You may not be in agreement with the actions or beliefs of another person or group, but, as Christians, that does not excuse us from treating others with complete dignity; no excuses, no exceptions.  As a follower of Christ, I am to contend against oppression and for justice.  Further, as an American, I am to understand and value that every other citizen is due full equality with me.
For the past forty years, Christians have been caught in the mire of judgment against the gay, lesbian, bisexual and transgender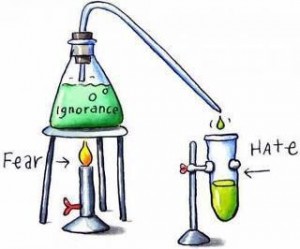 community.  We have listened to the many, many lies about them and held those dislikes and discomforts in equal truth to the Word of God.  We've blended a dogma of personal disgust to the creed of godly compassion and created the "ugly Jesus" that many outside (and inside) the church see.  It will require intentional focus on our beliefs to separate the lies from the truth.
It took five years of relationship for me to see gay and lesbian people without social and religious biases.  I had transformed my truth into God's truth; my interpretations were surely what God meant, and I was convinced my actions were imbued with His love.  I was wrong on every count.  I am thoughtful and intelligent, yet when I viewed the gay community, I had unconsciously bound together the filth of judgment with the beauty of the Bible and could not separate the two.
As is true for the majority of Christians, I had not studied the verses I so freely used to condemn an entire minority group.  What I thought I knew was in conflict with the evidence I could see in the lives of my gay friends.  As a result, I decided to revisit, not revise, Scripture on the issue of homosexuality.
Unbundling the lies from the truth requires effort. You may think you know God's truth and believe that you interpret His word correctly.  And you may be just as blind as I was.  A few years ago, we had a particularly snowy winter in Northern Nevada.  The roads were often impassable, so I took a week and dissected those sections of Scripture in original language, context, historical timing and intended audience.  My desk was covered with documents, books, several versions of the Bible and I had two computers open for research.  At the end of each day, I hiked in the snowy woods both screaming and crying. I was discovering truth and hated that I had been part of the oppression of the gay community.
Do you treat a gay, lesbian, bisexual or transgender person the same as you would a heterosexual person?  Do you strive for their equal status in civil rights? If you do not, you are part of the "chains of injustice" and the barrier "to set the oppressed free."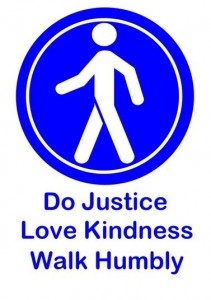 While Christians are finding their way in this difficult dialogue, we need to extend grace to others as we diligently seek the truth about people and about what God does and does not say concerning human sexuality.  This should be an intentional pursuit.  Hate-filled messages like those of Scott Lively must be drowned out in boldness by courageous, daring and wise Christians who lovingly declare the message of Jesus Christ.
To the people of DPCC who welcome Lively, listen with your Jesus ears and hearts.  Is what Lively says gracious, or is it full of retribution?  Does it divide, or bring peace?  Is it true, or slanted?  Is it just, or discriminatory?
I love my faith tradition.  I love Jesus.  And I hate what is happening to the public presentation of my faith and my God.  I hate what has been done to the gay and transgender children of God.
We are in a pivotal time in the church, in our country and in the world.  Christians are charged to be leaders in justice and truth.  We must speak out strongly against the bias and lies.
His love will defeat the hate.  His peace will heal the damage.  His truth will expose the lies.  His justice will end the oppression.
"Mercy and truth have met each other: justice and peace have kissed." Psalm 85:10
Contend for these things.
PRESS RELEASE from Pastor Jason Murray of Draper Park Christian Church 4/20/12:
"Our press release about the Lively event. Scroll down and read: don't be a victim of the media's distortion: and have the courage to be counted when it counts. "If anyone is ashamed of Me before men…."Press Release on Scott Lively
4-20-2012
By Draper Park Christian Church
Having heard Scott Lively in public and met him in person, as well has having reviewed carefully his books REDEEMING THE RAINBOW and THE PINK SWASTIKA, the leadership of DPCC has determined that God is calling us to give our members and the wider OKC community the opportunity to hear Scott's message.
We knew that Scott is not only a controversial figure, but one hated and feared by his opponents. Through extensive contact and interviews, we have determined that this hatred and fear is largely based on misrepresentation and distortion of his message. While we cannot overcome the distortion—nor will we waver from God's call to invite Scott—we can do our best to respond to the fears by explaining our position with regard to Scott Lively.
Draper Park Christian Church exists only because of, and only for the sake of, a shared commitment to Christ Jesus of the Old and New Testaments. He is our Savior, but also our Lord and King.
That commitment forbids us to ever, by our own actions or inactions, to cause or allow harm to any person within our reach who claims to be gay or lesbian.
That commitment also forbids us to harm anyone spiritually and eternally by our silence: especially about sin.
Draper Park spends the majority of its time dealing in God's grace and truth with sins other than homosexual behavior and commitments. But we have determined that this is a specific season God has called us to help Scott Lively issue a classic, traditional, charitable but unwavering warning about the dangers of enshrining homosexuality as a human norm and a human right.
We believe and expect that Scott Lively will abide by both aspects of our commitment to Christ—the refusal to allow harm as well as the refusal to remain silent—because we have observed for ourselves to our satisfaction that Scott shares our allegiance to Jesus Christ as both Savior and Lord. Thus, we believe Scott will issue his concerns clearly and articulately, in an attitude not only of charity and concern but of urgency.
Based upon our religious freedom and our right to peaceable assembly, we are determined to allow Scott Lively to present his entire message and, as per our publications, invite the public to come peaceably, hear him out, and evaluate his message for themselves.
Finally, Scott has asked us to include the following statement in his own words: "Sometimes the accusation of "hate" is not an honest assessment of a person's words or deeds, but a calculated tactic to silence an uncomfortable truth. It is a tactic that has worked so well on the topic of homosexuality that very few people still dare to speak about it. I thank Draper Park Church for having the courage to allow this truth to be told, and I promise all who attend my talks that you will witness this most challenging topic handled boldly but with compassion."The response from  Scott J. Hamilton, Director of Cimaron Alliance, OKC:
Comments
comments