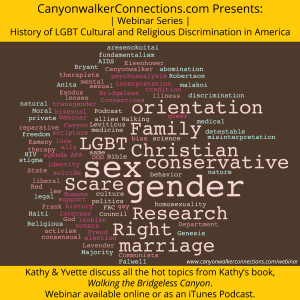 Canyonwalker Connections produced an online audio seminar series following the format and information from Walking the Bridgeless Canyon to help train and educate LGBT people, their families, and allies. 

The feedback on this series has been extremely positive!
The 6 part webinar series is hosted by Kathy Baldock, with Yvette Schneider, former policy analyst for Family Research Council, and head of Women's Ministries at Exodus International.
Week 1. Same-sex behavior and homosexuality in history and in the culture 
Early understanding of same-sex behavior
The "discovery" of heterosexuality and homosexuality
How did heterosexuality become the "good" sex?
Historical terms about same-sex attracted people and the link to views on women
How did homosexuality come to be understood as a mental illness?
The beginnings of reparative, or change therapy
Week 2. Gays in the American culture from the 1940s to the 1960s
This has been one of our most popular segments. It is rich in history, stories and fascinating facts you've likely never heard about. We focus on the life and oppression of the gay and transgender communities in the American culture from the 1940s to the 1960s.
Week 4. The Beginning of AIDS & Sex, Gender and Sexual Orientation
The Beginning of AIDS in the early 1900s
What is sex?
What is intersex?
Understanding gender
Understanding transgender
The science of sexual orientation
Week 5. Same-sex behavior in the Bible
Leviticus 18 and 20
Romans 1
1 Corinthians and 1 Timothy
Deuteronomy 22:5
Civil marriage and biblical marriage
Week 6. Bringing it all together
Trying to "fix" gay Christians and the rise of the Exodus-type ministries
Mixed orientation marriage where one spouse is straight and one is gay
The call for celibacy for LGBT people by some religious parties
The first studies on LGBT youth did not begin until the early 1990s
How best to help your LGBT child as they come out
Helping to create safe places for LGBT youth and adults in churches
The webinar series is hosted here.
********************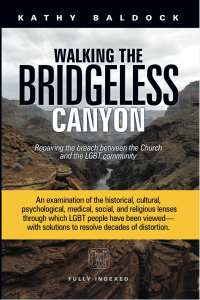 Hard and audio copies of Walking the Bridgeless Canyon are available signed on the publisher's website and on Amazon.
Copies of Yvette's book Never Not Broken are available on Amazon.