Welcome to
Str8 Apology | Tell Your Story
Throughout Gay Pride Events this summer of 2011, there will be non-glbt Christians taking a step of humility and  responsibility in apologizing to the glbt community and their friends and allies for the rejection and damage caused in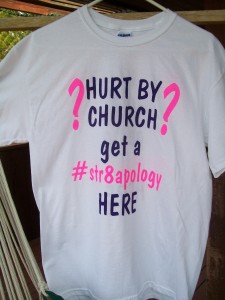 the Name of Jesus.
There are many of us that know the treatment of glbt people has been harsh, non-loving and destructive.  We may come from varying degrees of affirmation, but we do know that one of the tenets of out faith is the loving treatment of others and the need to fight against oppression and injustice.  It is from this posture that we seek to listen to the stories, apologize in lieu of others that will not/cannot and bless you as you move to a place of knowing that God loves you just as you are. No one is beyond His love. No one.
For those of us who will wear the "Hurt By Church? Get a Str8 Apology Here" t-shirts–thanks for being brave. You may have been one who, in the past did not see the glbt community as equal or you may have always been fully affirming. In humility and with an attitude of sincere listening, you will know the depth of the damage as never before.  It will inspire you to be always conscious of the way you treat others.
Apologies can be the start of healing. Join me in "repairing the breach" (Isaiah 58).
Follow the actions here and on Twitter using the hashtag #str8apology and on Facebook.
Tell your stories here, you are welcome here . . .
Comments
comments