On Saturday, August 27, 2011, an action of str8apology  ("Hurt by Church? get a #str8apology here") lead by Kathy Baldock, Executive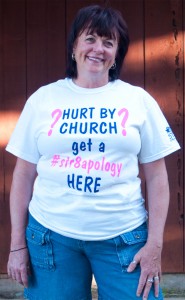 Director of Canyonwalker Connections) will take place at 2011 Pride Charlotte. ( #str8apology)
Str8apology's  presence at Pride Charlotte will bring the message of the unconditional love of God while  standing against the activist of "God has a Better Way" (GHABW).   GHABW is organizing several hundred marchers that will enter the public festival space wearing tee shirts printed "God has a Better Way"   to hand out invitations linked to a website condemning the same-sex attractions/gender identities of the gay, lesbian, bisexual and transgender communities.  The intent of GHABW is "walk through or surround the event to evangelize, sing, pray, hand out water and reach out with love to those in attendance while resisting the (gay) agenda." The actions of GHABW are viewed as intimidation and corrupt further the unconditional message of God's love.
Str8apology  is a simple act of apology to the gay, lesbian, bisexual and trangender community for the unfair treatment and rejection they experience at the hands of Christians. Like GHABW.  We will also counter the shaming and harassing aggression of the GHABW activists directed at the gay, lesbian, bisexual and transgender communities on the day they have set aside to participate and celebrate with their families and friends in a safe environment.
Str8apology is a Christian action.  We are driven by our faith which compels us to fight oppression and injustice.  We see the value of positive expressions of God's love and are aware of the damage caused by conditional and condemning messages. We will be in Charlotte on Saturday the 27th celebrating the richness and  diversity of the Queen City in a spirit of the inclusive love of Jesus.
Series on Pride Charlotte :
"God Does Have a Better Way | Don't Stand in the Path of It"
"Bullies With Bibles | Street Preachers/Screecher at Pride Charlotte"
"str8apology Action | Pride Charlotte"
"Exchange Between Michael Brown and Transwoman, Lisa Salazar"
"Stop "God Has a Better Way' Action Pride Charlotte August 27th"
"Responses to 'God Has a Better Way" Pride Charlotte"
"A Queer Thing Happened to America" by Michael Brown | A Review"
Comments
comments