I met a young lady last August at Pride Charlotte, and I saw her again this year. She excitedly ran up to me, "Do you remember me from last year?!" she asked. Of course I did, her voice is gravelly distinct.
After hugging her and kissing her cheek, I stared into her face and asked "Honey, do you realize how beautiful you are in God's eyes? You are beautiful." She teared up and looked down. It was not a message she has heard from the mouth of Jesus-people.
The dominant "Christian" message being screamed through bullhorns and  from ladders at Gay Pride events is one of abomination and condemnation. Filled with hate, threat, mocking, arrogance and taunting, the street preachers attack with a distorted "Christian" message. And so, gay, lesbian, bisexual, transgender and straight Christians are going to pride events to counter with messages of love, hope, apology and reconciliation.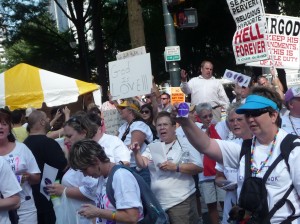 Thirty-one gay, lesbian, bisexual and straight Christians stood as a "Wall of Love" between the hate fueled messages from street preachers and the festival goers recently at Pride Charlotte. The group offered love and acceptance, distributed information with affirming Christian messages and acted as a buffer from the verbal harassment of street preachers.
For six years, as a straight Evangelical Christian, I have gone to various gay pride events with an act of humble apology while offering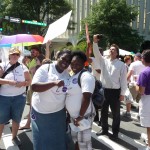 recommendations of welcoming faith communities and resources to help LGBT festival goers reconcile their sexual orientation with the Bible. It has been effective and often, a lonely action.
With the passage of the discriminatory Amendment 1  in North Carolina and knowing the Charlotte area has a particularly nasty strain of open air preachers, I asked for people to join me this year.
We met for a noisy, cheerful breakfast the morning of Pride. After distributing "Hurt by Church? Get a #str8apology Here" and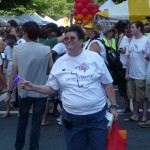 "Christian+Gay=OK"® tee shirts, stickers and information cards to the group, we practiced for our "flash mob" singing entry into Pride Charlotte on the deck of the restaurant. Surely an unusual scene at the popular breakfast spot.
Over the next six hours at Pride Charlotte, we positioned ourselves directly in front of or surrounding the street screechers. Lead by Pastor Debbie on guitar and united as a singing, loving, cheerful buffer, our group succeeded in rendering the screechers ineffective. Much of the time, the baffled men stood silent and tried to engage people one on one. Even then, as they sought their next target, we were at their sides genially interrupting, "Hello, would you like a "Christian+Gay=OK"® sticker or some information?"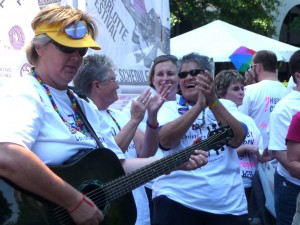 We handed out over three thousand "Christian+Gay=OK"® stickers and directly engaged hundreds of people. The group distributed site information cards to help understand misused Bible verses along with a listing of churches where GLBT people are welcome.  We hugged and got hugged. We laughed, smiled and sang. We were the clear contrast to the poisonous proclamations that have dominated so many pride events.
Each of us has magnificently simple and magical stories from participating that day. One of the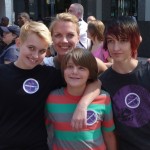 event organizers arrived home at 11:30 that night to find her wife in tears. When asked why, the wife spoke of how our group surrounded the street preachers and sang; it made her feel loved and protected. A transgender youth could not imagine God being willing to love him; Andrea assured him it was indeed possible. A 6-foot-5 drag queen sang "Jesus Loves Me" back to Sharone later in the day as we had sung it to her earlier. While at a lesbian club later that night, a woman wearing one of our stickers, declared to Jaleesa and Haddasah, "Christian plus gay equals okay." When they looked around the club, they saw dozens of other people wearing "Christian+Gay=OK"® stickers.
The Jesus-in-the-street experience changed each of us as well. What one person may not have been able to bravely or effectively do, the group of us did accomplish.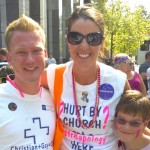 This peaceful approach to silencing the anger hurled at the GLBT community had been untried. In forming a "Wall of Love" at Pride Charlotte, thirty one LGBT and S Christians encouraged people; we expressed love and acceptance in song, words and actions; and we were able to buffer, and even silence, the harassment. It worked.
A group of well-intentioned people of God can radically shift the public message of the Bible at Pride events back to one of love. We can also begin to silence the destructive, poisonous proclamations of the militant street Pharisees.  Create a "Wall of Love" in your city. Be inspired. Be hopeful. Be Jesus. Let me help you.
Blessed are the peacemakers. They will be called the Children of God.
[NOTE:  In 2011 and previous years, several hundred Christians, under the guidance of

Michael Brown

, have marched into Pride Charlotte with a different Christian message of

"God Has a Better Way"

. We are NOT that group which holds to a conditional, you-must-change-orientation-for-God-to-love-you" message of reparative therapy. They did not come to Pride Charlotte in 2012, but are reported by Brown to make a reappearance in 2013. Will those of you in Charlotte commit to joining our "Wall of Love" and making it even bigger? Thanks!]
Comments
comments