PRE-PURCHASE | COMING WINTER 2023 | FORGING A SACRED WEAPON: HOW THE BIBLE BECAME ANTI-GAY | PAPERBACK
$26.00
Publishing SUMMER 2023
Pre-selling now. Signed copy.
All pre-sales will be invited to a special ZOOM presentation and discussion time.
Description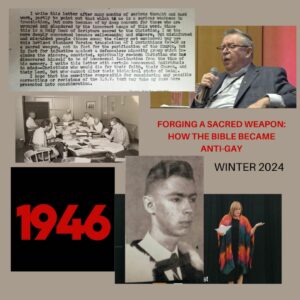 "Forging a Sacred Weapon: How the Bible Became Anti-Gay" will be published in WINTER 2024
ALL PRE-SALES WILL BE INVITED TO SPECIAL ZOOM PRESENTATIONS AND DISCUSSIONS at the release of the book.
Investigation of Scriptures used in the discussion of human sexuality in the context of time. One cannot just look at the Bible or religion to understand this issue. We must also look at biblical and documented history, how people told their stories, cultures, politics, military conquests and conflicts, philosophy, science, medicine, and the impact, both positive and negative, of people and decisions.
Pre-sales are accepted for signed copies.
ALL PRE-SALE PURCHASERS will be invited to a special series of ZOOM calls for discussion.
Your name will be placed on an email list with updates.
Thank you for supporting the work of Canyonwalker Connections.