Joe Dallas' Background and Reviews of His Books
Over the past 25 years, Joe Dallas has built a career in speaking, writing and counseling gay and lesbian Christians, their families, and churches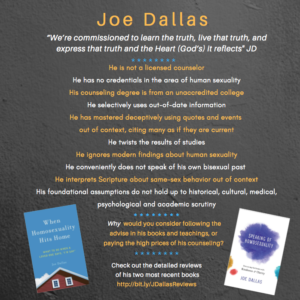 seeking understanding at the intersection of sexual orientation and the Bible.
He has authored eight books since 2003 and has a counseling business in Orange County, California.
Recently, I read his two latest books, Speaking of Homosexuality (2016) and When Homosexuality Hits Home (2015). Besides reviewing each book extensively, I wanted to know the counseling qualifications of Dallas. What I found, surprised me and many of his former clients. Most assumed he had a license and professional training in the area of human sexuality. Both assumptions are incorrect.
Speaking of Homosexuality (2016)  Review on Amazon
When Homosexuality Hits Home (2015)  Review on Amazon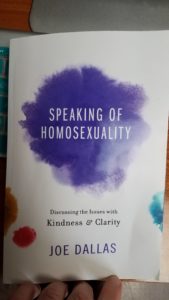 At the start of each review, I present the same brief look into Dallas' background before dealing with the content of the books separately.
Here is what I have found (the reviews are hosted on Amazon where you can either upvote the review if you find it helpful):
In assessing the validity of Dallas's voice in the "gay debate," it is crucial to understand Dallas' background and credentials. I know hundreds of gay people and their families who have counseled directly with Dallas and countless others who have been impacted by his books, presentations, and teachings. Though he clearly states on his website that he is a biblical counselor, most former clients believed he is trained and licensed to do therapy work.
[His fees certainly reflect a level of expertise. He charges $100/hr for counseling, $90 on the phone, $50 for four emails, $500 for parents 10 session online support groups, $1,000 for "struggling" men for a two-day intensive session, $1,200 for two days for a couples intensive session.]
Of his past, Dallas writes, "I'd been a staff member with a pro-gay church, an openly gay man, and an activist, identifying as a gay Christian, arguing for the acceptance of homosexuality." (p 13) There are a few details Dallas conveniently leaves out of the frequent telling of his story. (Source: online interviews with JD)
He grew up in Southern California, and by 8th grade was having sex with boys and girls and using drugs. By the age of 15 in 1971, he was also having sex with adult men. (Source: online interviews with JD)
Dallas writes he was "on staff with a local gay church and preached that homosexuality and Christianity were compatible, then finally, after six years of self-delusion, repented at 29." There are a few details Dallas conveniently leaves out of the frequent telling of his story. (Source: online interviews with JD)
Dallas, saved as part of the Jesus movement, had a conversion experience at 15 at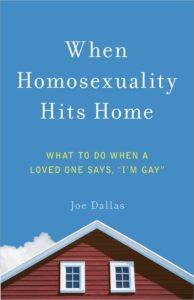 Calvary Chapel, Costa Mesa. At 18, he was ordained at Calvary Chapel and worked in the music ministry, did counseling, conducted weddings and funerals, and got married to a woman. As the church began to develop internal problems, Dallas and his wife left for secular jobs.
He got involved in pornography, went to female and male prostitutes, had an affair with a friend's wife (she got pregnant with Dallas' child and had an abortion), ended his marriage, started drinking heavily, and had an extended relationship with a man. (Source: online interviews with JD)
In his search for renewed faith, he went to a Metropolitan Community Church (gay-affirming), where he was involved in worship, but not on staff. At the age of 29, Dallas went back to Calvary Chapel, started seeing a Christian counselor, and got interested in Christian counseling as a profession.
Dallas received a Masters in Christian counseling at Vision Christian College near San Diego, a school unaccredited by the U.S. Department of Education (the price for this degree is currently $5,400), first intending to work in the field of drug and alcohol rehabilitation. Finding no jobs, he interned at a "little Christian counseling center, which was counseling people who were struggling with homosexuality and with pornography."
Dallas married his second wife who joined him in ministry work in 1992.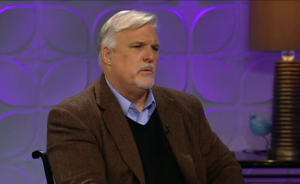 He has had no formal training or degree in the area of human sexuality or therapeutic counseling. He is not licensed by a recognized mental health therapy organization.
A few commentaries before digging into the book, chapter by chapter: most experts in human sexuality recognize a spectrum of natural sexual orientation from homosexuality to heterosexuality, including bisexuality. Though none of us gets to label another person's sexual identity because it is a personal issue, it is highly problematic, yet simultaneously convenient, when "ex-gays" such as Dallas completely ignore the category of bisexuality (having a natural attraction to men and women).
Conversion to Christianity certainly did transform Dallas' life of sexual excess and substance abuse. It is far less likely to have altered his innate sexual orientation.
This is the background of the author of "Speaking of Homosexuality."