Reviews of Ron Citlau's Books Harmful to the LGBTQ Community
Linked are two reviews on books by Reformed Church in America, Pastor Ron Citlau.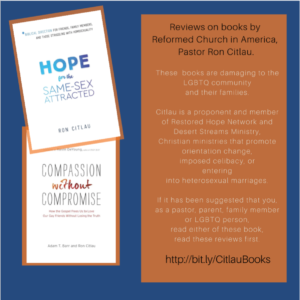 If it has been suggested that you, as a pastor, parent, family member, or LGBTA person, read either of these books, read the linked reviews first.
Both books are damaging to the LGBTQ community and their families.
Citlau is a proponent and member of Restored Hope Network and Desert Streams Ministry, Christian ministries that promote orientation change, imposed celibacy, or entered into heterosexual marriages.
**********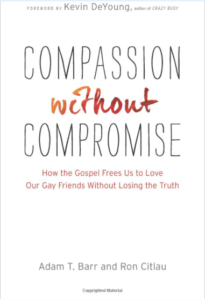 Compassion without Compromise (Bethany House, 2014) by Adam Barr and Ron Citlau — A Book Review
"Compassion without Compromise" (Bethany House, 2014) co-authored by Reformed Church in America (RCA) pastors, Adam Barr and Ron Citlau, is subtitled "How the Gospel Frees Us to Love Our Gay Friends Without Losing the Truth."
I read books written from this point of view regularly. As is with other authors in the same genre, the authors of this book assume the foundational basis on which they've constructed the whole of their guidance and beliefs to be correct, biblical truths. The aim of the book is to be a "compassionate, uncompromising witness in a culture that celebrates what the Bible censors."
Throughout the book, the authors attempt to present objections to their "biblical truth," or traditional view by contrasting it with a point of view called "revisionist." To them, I would be considered one such revisionist. Contrary to the view that "many revisionist interpreters have a personal stake in this issue," I am straight, a mother of two adult heterosexual children, and have been an evangelical Christian for thirty-five years. Continued HERE on Amazon.
***********************
Hope for the Same-Sex Attracted by Ron Citlau — A Book Review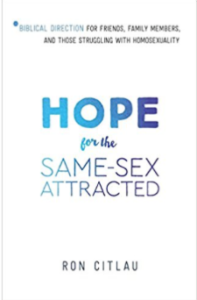 "Hope for the Same-Sex Attracted" (Bethany House, 2017) by Ron Citlau is subtitled "Biblical direction for friends, family members and those struggling with homosexuality" with the intended market of "pastors, church leaders, parents of a  same-sex struggler, and Christians who want to work very hard to make their church a place where same-sex strugglers can flourish." (p 16)
Before reading and reviewing this book, I completed "Compassion without Compromise," a book co-authored by Citlau and suggested by him as "a more in-depth discussion on what the Scriptures say about homosexuality and biblical ethics." Once familiar with Citlau's theology, I was better equipped to read and review this book. [I posted a review of that book as well.]
Citlau's says there are three obstacles that stand in the way of God giving His gifts to "same-sex strugglers" (a term that Citlau uses to gross excess. The term often appears over six times on a single page.) The author lists the three obstacles: identifying as a gay Christian, gay marriage, and the spiritual friendship movement. Continued HERE on Amazon.
***********
If you would like to support the continuing work of my reading bad books and doing good reviews, please consider giving Canyonwalker Connections an Amazon gift card.  Email: Orders@canyonwalkerconnections.com
THANK YOU.