The mission of Canyonwalker Connections, founded in 2011 by Executive Director Kathy Baldock, is to repair the division existing between social and Christian conservatives and the lesbian, gay, bisexual, and transgender (LGBT) community through education, training, encouragement, and dialogue in both secular and religious environments.
Canyonwalker Connections: uncovers and explores long-standing influences which have led to the discrimination of the LGBT community; increases and facilitates civil conversations and solutions for broader inclusion of the historically marginalized LGBT community.
In 2001, Baldock, well insulated in the conservative Christian church and social spheres with no gay friends, strongly believes one could not be both gay and Christian. After befriending a fellow hiker – a gay, lesbian, agnostic, Native American woman, Netto Montoya – on the trails near her home in the Sierra Nevada, Baldock's deeply entrenched cultural attitudes toward the gay community were challenged. Since none of her new gay friends openly identified as Christian, Baldock was able to maintain the wall between the two words "gay" and "Christian."
After reading an article in the New York Times about gay Christians in 2007, Baldock became the first straight Christian advocate to attend the Gay Christian Network (GCN) annual conference. The intention was simple: to witness expressions of faith in the LGBT community. The relationships established at the conference set Baldock on a path to becoming an ally, and eventually a strong advocate for LGBT people of faith in conservative Christian communities and beyond.
Baldock has been blogging and speaking for equality and inclusion in churches and at national conferences since 2009. Baldock left her job as a successful sales person in the tech industry hoping to make significant impact for justice in conservative faith communities.
Baldock has become a prominent female voice for inclusion of the LGBT community in conservative churches. In 2014 she published Walking the Bridgeless Canyon: Repairing the Breach Between the Church and the LGBT Community and is one of the foremost experts on the history of the cultural and religious discrimination of the LGBT community in America.
"The most thoroughly researched and written book on the history of political and religious thought regarding the understanding of and treatment of LGBT people." "Brilliant book with excellent documentation." "This ground-breaking, eye-opening book is a first of its kind that pulls together historical facts, evolving religious attitudes, changing social norms, and psychological research . . . " "Walking the Bridgeless Canyon" is not a book with a motive to attack. It is actually the opposite. Ms. Baldock is a passionate evangelical Christian who, following years of intense study, has determined that there is a huge opportunity for the Church to see God's love in the embracement of their LGBT brothers." "The most caring and intelligent book that I've read about LGBT people and their history." "This book will be a lifesaver for a young religious person struggling with his or her sexual orientation or identity." "The book so deeply researched and still quite readable. It will be a benchmark for years to come." "The book is the game changer."
Yvette Cantu Schneider joined Canyonwalker Connections in 2014 as the National Director for Policy and Advocacy. Schneider was a former policy analyst and speaker for the Family Research Council in Washington, DC, and was the head of Women's Ministry at Exodus International, a Christian reparative therapy ministry.
Together, Baldock and Schneider engage in gracious, moderate, and well-researched presentations and dialogue. Canyonwalker Connections educates through:
"Canyonwalker's seminar has changed my whole understanding of the history of the American Church, American politics, and the LGBT community. Her precise way of cutting through the lies, mistruths, and ignorance of the general population regarding this information is transformative. I walked away with a better understanding of what society has said about LGBT persons versus what God has said about LGBT persons. This understanding gave me freedom of faith, an acceptance of my own sexuality, and cultivated healing and wholeness in my life."
In public presentations, writing, podcasts and webinars we cover a variety of topics: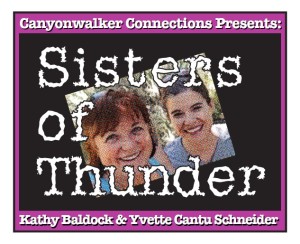 History of cultural and religious discrimination of the LGBT community
Psychological history of homosexuality, gender identity, and current status
Past and current politics and policy concerning the LGBT community
Sexuality, gender identity, and sexual orientation
Biblical interpretations of same-sex behavior
History of HIV/AIDS
Mixed-orientation marriages
Reparative therapy
History and current status of the LGBT Christian movement
Steps to becoming effective allies and advocates
LGBT youth
LGBT issues in minority communities
"Finding Canyonwalker's website was a blessing for us. We are Christian parents who raised our children in church and Christian school. Having a gay child brought years of shame and guilt. We were confused, struggling and searching for answers. When I stumbled onto her website, it was a breath of fresh air! Kathy has been given a gift to share, a mission to reveal the truth, a ministry of reconciliation that cannot be stopped and won't be silenced. Kathy, you are strong, you are kind, you are a blessing to so many. Thank you from the bottom of our weary hearts!"
Public presentations range from one hour long to full days (8 hours). We speak at churches, civic groups, PFLAGS, universities and colleges, on panels and Gay Straight Alliances in schools. Contact Kathy@canyonwalkerconnections.com for more information.
Read what people say about Canyonwalker Connections.
________________________________________
Kathy Baldock also serves on the Board of Director for Matthew Vines' The Reformation Project and on the Advisory Board of Justin Lee's Gay Christian Network.