Richard Archambault was born and raised in Richmond, CA, just across the bay from San Francisco. His father was an enrolled member of the Standing Rock Sioux tribe and also a descendant of the Muscogee (Creek) Nation. His mother is a descendant of Cornish miners who relocated to California during the Gold Rush. Richard is an enrolled Muscogee citizen.
Richard has also lived in Chicago where he served on the lead team during the launch of a Mega-Church regional campus in downtown Chicago, and Los Angeles where, for the first time in his life, he was not actively involved in ministry. That was when all the "stuff on the shelf" was finally taken down, examined, grieved, celebrated, and finally, integrated.
Richard is a security professional who has worked in the financial services, professional services, film, and television industries in San Francisco, Chicago, Los Angeles, and Sydney, Australia. He now leads cybersecurity for Arlington County, Virginia.
He completed a bachelor's degree at DePaul University and an MBA at the UCLA / Anderson School of Management.
Richard currently resides in Falls Church, Virginia with his husband, Dean, and their dogs Jasper and Cam.
Dean Johnson
 was born and raised on a family farm in eastern North Carolina.  He grew up in a small Free Will Baptist church built by his great-grandfather on the farm, and it was there that he gave his life to Christ.  After attending college at North Carolina State University, he moved to South Carolina, then Texas for a career in aerospace electrical engineering.  In 2006, he moved back home to North Carolina and continued to work in the aerospace industry.
In 2007, with the help of a wonderful friend, Dean finally acknowledged that he was gay.   Through months of prayer, counseling, and support, he came to reconcile that part of his life with his faith.
At a Gay Christian Network conference, he met Richard Archambault one night at dinner and they immediately bonded over their shared interest in travel.  Over the next year, their relationship continued to grow over the distance.  In 2011, Dean (along with his dog Jasper) moved to Los Angeles to continue the relationship in the same city, then they ventured together to Sydney, Australia for six years.
Dean currently resides in Falls Church, Virginia with his husband, Richard, and their dogs Jasper and Cam.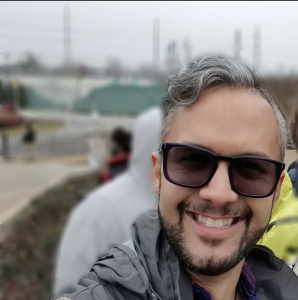 Alejandro Ugarte
Bio coming in December 2021
Lisa Salazar, MAPPL, CSCP — Lisa was born in Colombia and grew up in California after her traditional Roman Catholic family immigrated to the U.S. in 1960 when she was almost ten years old.
She became an Evangelical Christian at the age of 21 while attending San Jose State University during the Jesus People days in the early Seventies. Then, in the summer of 1973, she moved to Vancouver, BC, to start a graphic design studio with her older brother. A year later, she married a young woman had she met at a Bible Study in San Jose, and started a family in 1976.
All the while, Lisa struggled secretly with her gender identity but sincerely believed God would heal her self-image if she devoted herself to her wife and son, trying to be the best husband and dad she could be. Fast forward thirty years to 2006. By now, Lisa had been diagnosed with acute gender dysphoria, and it had taken her almost ten years to reconcile her gender identity to her Christian faith.
In July 2008, she began her social, medical and public transition, imagining a peaceful and private future. The last thing she ever wanted to do was draw attention to herself. She was accepted by her elderly parents, three adult sons, all her siblings and their families. She and her wife divorced amicably three years into her transition. And though Vancouver proved to be a safe city for her to come out in, she soon found herself becoming gradually unemployed. Her clients stopped calling, and she was unable to find new work.
In 2013, she enrolled at the Vancouver School of Theology. In 2015 she completed a Master's degree in Public and Pastoral, Leadership, followed by three years of clinical training to become the first openly transgender Certified Multi-faith Spiritual Care Practitioner in Canada.
She currently works for the local public health authority in a complex care hospital. She offers workshops on Trans Inclusion to healthcare professionals, community organizations and corporations.
She is also the author of "Transparently: Behind the scenes of a good life (2011)." Her pronouns are she, her, hers.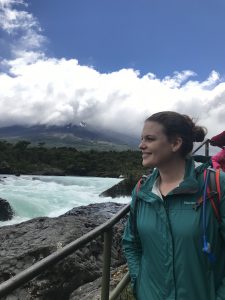 Sam Baldock is the Director of Policy and Partnerships at Research Improving People's Lives (RIPL), where she leads project management, partnership development, and stakeholder engagement with state government partners. Prior to joining RIPL, she served as the Director of Regional Initiatives and the Deputy to the Chief of Staff at Empire State Development, New York State's economic and workforce development agency.
Sam holds a Master of Public Administration from SUNY Albany and a Bachelor of Science in Economics and International Business from the University of Nevada, Reno. 
She is a skilled leader, listener, and communicator in the non-profit sector, who brings fresh ideas and understanding of the younger segments of society to the Board. Canyonwalker Connections has a distinct initiative to reach out to and interact with youth to educate them about LGBTQIA issues and equality. 
Sam lives in Brooklyn, where she enjoys exploring the City's museums and cultural institutions, participating in local storytelling events, and planning her next hiking adventure.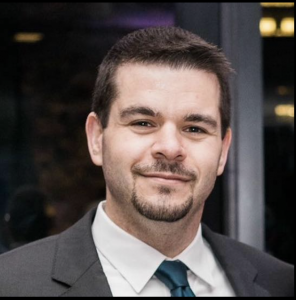 Brent Goff
Bio coming in December 2021
test test test
As we all know, sometimes it takes a village.